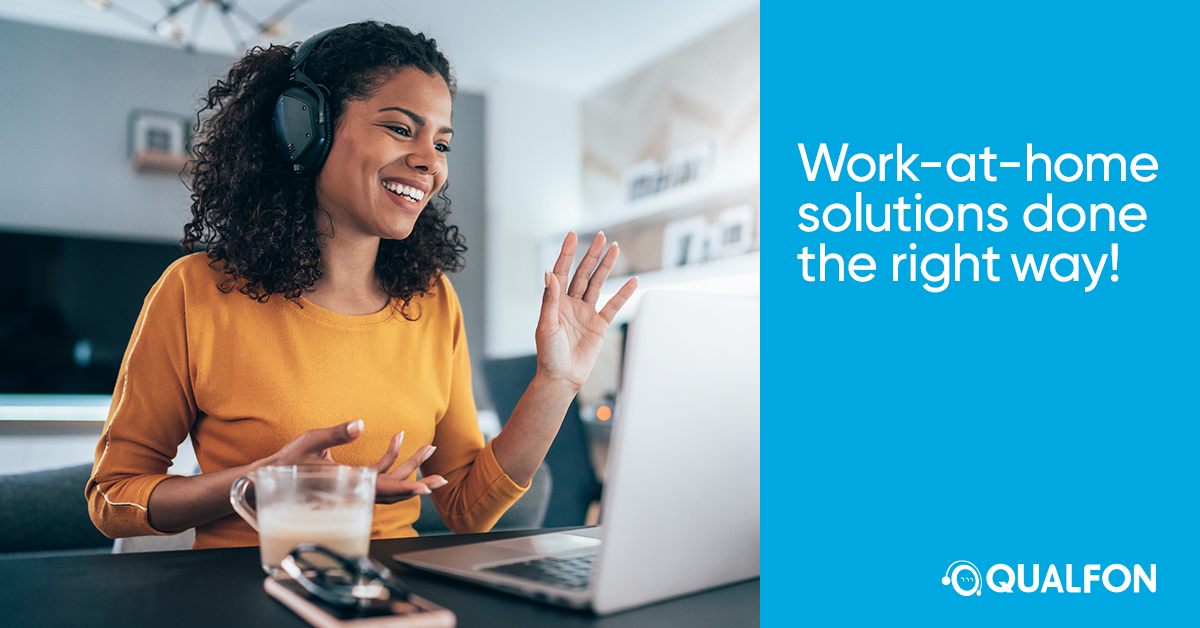 Work-at-home solutions have become increasingly important as businesses navigate through the recent COVID-19 pandemic. There is a lot to consider when evaluating a work-at-home solution for your organization. As you navigate through the vendor selection process, it's important to look for those that meet specific requirements.
We've compiled a checklist of key contact center criteria you should use when evaluating the work-at-home vendors on your list:
Tenure and Experience: A mature work-at-home solution is a must. Has your potential vendor just started offering a work-at-home solution or does it have years of proven performance? If they've just entered this market due to the recent pandemic, they may have been forced to deploy a work-at-home program and pieced it together in an as-needed fashion. Look for providers that have a strong track record of performance, both in client satisfaction and technological stability.
Speed and Flexibility: In these uncertain times, some companies are struggling to keep up with key metric requirements, and each day that goes by could result in lost customers. Can your potential provider move quickly to implement your program with documented experience transferring clients to a work-at-home environment? If not, your transition may become an experiment in unproven processes and procedures, likely adopted from brick-and-mortar solutions. A clear understanding and formal proposal of the onboarding timeline is essential to the launch of your new program.
Strategic, Long-Term Investment: C-level commitment and executive buy-in demonstrates long-term, strategic emphasis on a work-at-home solution. Your potential provider must have a long-term commitment to a work-at-home model. Ask yourself if the providers you are considering have pivoted recently – perhaps motivated by recent events? Look for a provider that has the leadership to expand an already established and long-standing program.
Culture: A culture that includes and embraces the work-at-home agent is vital to tenure, performance and job satisfaction. Will your potential provider thoroughly integrate the work-at-home agent into the overall company culture? Or leave them on the outside feeling isolated and unsupported? Ensure that your provider has a new hire training program that delivers a clear understanding of your company history, culture and mission to ensure agents represent your brand in the most positive way.
Onboarding the Best: A person-first culture and holistic approach to improving each person's life prevents the revolving door of churn and attrition. Does your potential provider have a true, person-centric approach to recruiting, hiring, training and ongoing employment? Demand a well-documented, customized process for hiring, interviewing and onboarding your work-at-home program, because well-trained and tenured agents provide better performance.
Capacity and Growth: As we navigate our current business environment, work-at-home programs may become the new norm. Some providers may have available bandwidth in place, while others will be piecing new offerings together. Does your potential provider have the available bandwidth and infrastructure in place that allows your program to grow as your business dictates? The provider should provide you with a capacity plan to accommodate potential growth.
Robust Technology and Security:Stable technology, secure applications and seamless collaboration tools are key components to a fully compliant work-at-home solution. Can your potential provider offer compliance and certifications, such as PCI and HIPAA? Data encryption, multi-factor authentication and secure desktop lockdown are a few of the tools required to ensure you stay compliant with a work-at-home solution. Look for a provider with robust security and innovative features — not an out-of-the-box product that won't protect you or meet your long-term needs.

With more than a decade of work-at-home experience, Qualfon's Virtual Agent platform combines tenure with executive buy-in committed to long-term business results well into the future. Our Virtual Agent program can scale to more than 10,000 seats to accommodate your program and its growth. This includes both the implementation of new programs and transitioning of existing ones. Our person-first recruiting process will find the right candidates and onboard them with immersion in both your culture and ours.

Let us put our decade of proven, work-at-home support to work for you. Request a Virtual Agent proposal today from our business development team.  Contact Us!