OUR MISSION
Our mission begins with our people who help us create remarkable experiences for our clients.
We are deeply committed to helping our employees grow as individuals—at work and beyond. This allows us to remain the outsourcer of choice for our clients. When we care about our people, they care about you.
We offer programs that promote personal development and provide direct support for our employees and their families. Because of this, our employee retention is often twice the industry average. Having highly tenured and highly engaged employees translates to better customer service for our customers.
Simply put, when our people come first, it allows us to offer our clients top-ranking, award-winning performance at a lower cost.


Our mission is to help as many individuals as possible pursue their total vocation, create an ever-growing number of career development opportunities, and be the partner of choice for all our clients. 
Be the best and make each person's life better. 
Our core values are an important part of everyday operations.
Our core values are an important part of everyday operations. When we live our values, we build a deeper connection with customers and help the company stand out in the market. Our values help us even through difficult situations as they provide answers to tough questions and act as a beacon of light in situations of conflict.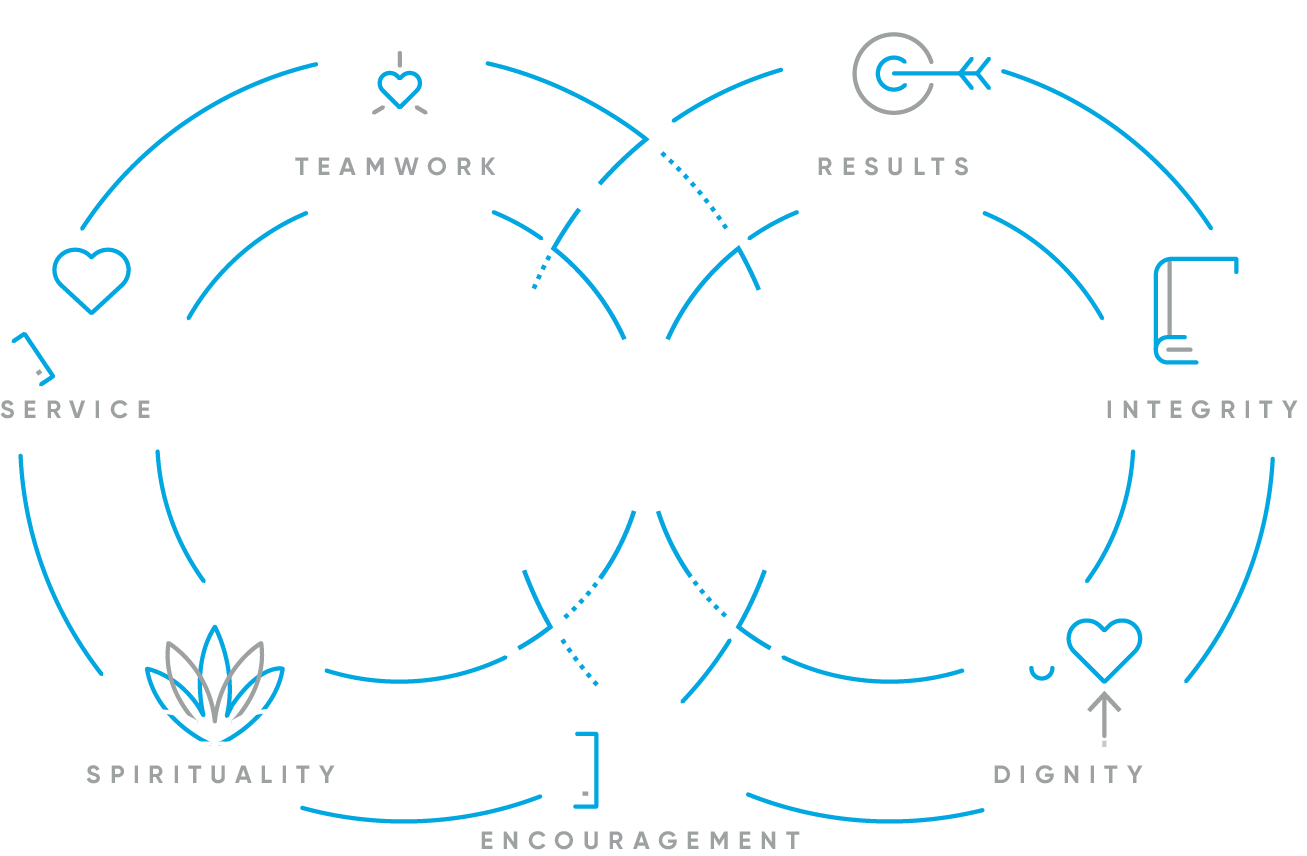 STRIDES is an acronym that represents our seven company values:
Service, Teamwork, Results, Integrity, Dignity, Encouragement and Spirituality.
Service | Service is living. Our customer service value is enhancing our clients' experience by helping their customers. Every call we answer and every transaction we process is an opportunity to enhance the customer's experience and make each person's life better. 
Teamwork | Work as a Team and Family. Although we are people with many different beliefs, cultures, and ethnic backgrounds, we are a family that takes care of each other and, through our unity, we can accomplish greater things together.
Results | Operate at High Levels of Performance. Ensure that goals are met in an effective and efficient manner with an attitude of service.
Integrity | Act with Integrity. Be honest, decent and trustworthy. Integrity means following through with our word and being impeccable with our actions.
Dignity | Treat Others with Dignity. Treat everyone with dignity; business goals will not be advanced at the expense of anyone's dignity.
Encouragement | Actions or words to motivate and appreciate the contributions of all the members of a team. We must motivate ourselves to do our very best, and by our example lead others to achieve their fullest potential in an exciting and engaging environment.
Spirituality | Act with Spirituality and Help Others. Loving and serving our neighbor is a way that we can honor God.
"The spirit of the company is our mission, and this is how we provide visibility into the achievement of our primary purpose."
~Roberto Sanchez Mejorada, Chief Mission Officer, Qualfon